Hi everyone!
Today I'm interviewing fantasy author Keta Diablo. I hope you enjoy learning a bit about her and her work.
Sheri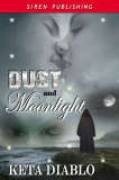 Dust and Moonlight
by Keta Diablo
"Fantasy lives in all of us. We long to be carried away to an extraordinary world, contrary to the one we live in. In Dust and Moonlight I've tried to do just that. Join me in a journey where magical powers and true identities are concealed, where an ordinary woman is thrust into a mystical land that threatens her very existence. Kira must rely on conventional wisdom to stay alive in this alien kingdom where wizards, sorcerers and evil reside. Well, conventional wisdom and a wee bit of help from her deceased grandmother who practiced witchcraft in her day. When she meets Balion, Prince of Locke Cress, she discovers cosmic love, a love that crosses all boundaries and withstands the test of time. Live the fantasy, believe in the magic, and join Kira for the adventure of her life . . . and yours." ~Keta~
Please share with us your path to being published. How long did you write before your first book was published?
I wrote historical romance under a pen name for four years and was blessed to have my very first book accepted. It was a medium-sized e-publisher, but I'm still very grateful for the opportunity. One must struggle with angst and setbacks along the journey in order to enjoy the splendid view if they ever make it to the top of the mountain.
Have you ever finaled or won in a writing contest? If so, which contest(s), which book(s), and which year(s)? Do you feel contests are a good use of your energy and time? Would you recommend that writers enter them? Why or why not?
Again, the lucky stars aligned when I finaled in the Molly Contest this year for my novel, Decadent Deceptions. It was so thrilling to receive an e-mail that said, "Congratulations, Keta Diablo, you finaled in the Molly Contest." I entered and then forgot all about it because it was the first contest I ever entered.
Yes, I feel contests are important for the aspiring writer and the established author. Although I didn't win the Molly, the feedback I received was immensely helpful. A great learning experience.
What is your favorite animal, real or mythical, and why?
This is a toss-up between cats and dogs. I rescued my lovable, furry kitty from the animal shelter last year. I visited her about three times before I took her home, and she was so lost, so forlorn. Her family moved out of town and took their furniture, but left her behind. Go figure! The shelter was about to put her down so I adopted her. We're bonded at the hip now, and she is most definitely "Queen" of the abode.
I lost my Sheltie, True Blue, last year after eleven years of faithful friendship. He used to lay behind my desk chair, and even now, I sometimes feel him there.
If you decided to no longer write, what would you do instead?
I can't imagine not writing, but if I must say, I always wanted to be a singer. If only I had a voice. I think it would be the ultimate trip to walk on stage and have thousands of people scream, whistle, and pass out just because you showed up. Then I'd sit down at the piano and sing "Answer" like Sara McLachlan does. The quintessential high!
What are your best promotion tips for other writers? What works best for you?
Join as many writers' groups that time permits and network with other writers. Contracting the book is only part of the journey. Marketing and promoting in this business is crucial. If you think of the thousands of books out there, what would make yours stand out? It's up to you to convince people that your book is special, will knock their socks off. Then you cross your fingers and pray that it does.
Where do you get your ideas for your stories?
Many times from my dreams. I know that sounds corny, but people have very active imaginations while they sleep. Scary, vivid, over-the-top, these visions and dreams make for good material. For Dust and Moonlight, two friends talked me into writing an anthology with them. I told them I had never written fantasy before, but they insisted I could do it. Before the anthology was published, we sent out some pre-reviews and the feedback was phenomenal for Dust and Moonlight. I bowed out of the anthology as soon as they found a replacement and turned it into a full-length novel. Don't ever tell yourself you can't write sci-fi, horror, or even suspense. You don't know until you try, and it was such a fun adventure creating the magical, mystical world in Dust and Moonlight.
So, tell us a little about yourself? What is your typical day like?
Oh-oh. I bet some people think authors ride around in limos and eat chocolate bonbons all day. Truthfully, you can find me at the computer from early morning until late at night (and I do mean late) pounding away on the keyboard, answering e-mails, promoting, and marketing. I lead such an unglamorous life, it's pathetic. Would I trade it for another occupation? Never.
When did you start to write, and how long did it take you to get published?
I was very blessed in this area. I have always written in one form or another. I worked as a newspaper reporter for years (and as a paralegal) and then the "romance" bug hit me about seven years ago. Once I started creating the stories that were rambling about my head, the rest was history. It took me about a year to get my first story published.
What influenced you to write?
The creativity, the word-building and ability to tell a story from beginning to end and watch the characters morph into caring, loving human beings. Being your own boss ain't too shabby either.
What inspired you to write romance?
Again, developing the relationship between the hero and the heroine, whether they live in the Old West or in another realm. Love is love and crosses all boundaries, forges all time.
What genre or sub-genre do you write? Why did you choose this genre?
Generally I lean toward historical because I love research. This goes back to my days as a paralegal and my love for genealogy. Yet many of my stories have a natural bent toward the paranormal, and I don't know where that comes from.
What difficulty does writing this genre present?
In historical you must be very accurate. Readers are astute and will call you on mistakes. For fantasy, readers are more lenient. Who is to say that unicorns didn't exist in this mystical kingdom or that spotted cats had fangs as big as a thigh? Both genres have their challenges and their strong points.
Tell us about your other works, books, stories, etc.
Right now, I'm working on the sequel to Dust and Moonlight, Dust and Starlight, of course, due out in March through Siren. Wow, I best get going! And I always have about three novellas in the works since I write for four publishers: Phaze, Siren, Ravenous Romance, and Noble Romance. My historical, Land of Falling Stars just made the top ten bestseller list at Ravenous. I'm so proud!
How do you write? Are you a pantser or a plotter? Is it your characters or your plot that influences you the most?
I'm a "panster." I never start at the beginning of the story, but write a scene that might end up in the middle of the book. From there, I work backward or forward and let the characters lead me on the journey. I don't do outlines or keep note cards . . . I know, unconventional, but it works for me.
How do you choose your characters' names?
Often from phone books, baby books, or from credits that roll at the end of movies. You'd be surprised how many combinations you can put together that always seem to fit one of your characters. If I'm stumped, I live with the character for a while and she/he names themselves based on their quirks, their habits.
What is the coolest thing about being an author?
Without question, independence and the ability to be your own boss. Of course, you must be disciplined and meet your deadlines, keep your promises, but there is no one standing over my shoulder telling me to get to work.
What has surprised you about being a published author?
I still have trouble believing that people actually take the time to e-mail me and tell me they loved my book. This is so rewarding and pushes me harder to keep on writing. There is nothing more rewarding than knowing that for a short time you transported someone to another world and they loved the visit.
What do you like to do when you aren't writing?
Sleep, garden, read, play with my furry friends and then sleep some more.
If you could spend an hour talking to anyone from any time in history, who would it be? And why?
Scarlett O'Hara (Vivian Leigh) and then beg her to teach me how to make all those fantastic facial expressions. With one raised eyebrow she could bring the strongest of heart to their knees, and her smile was absolutely devastating.
What is your all time favorite book?
The easiest question of all . . . To Kill A Mockingbird. I was transported to another world, could feel the old fence scrape against my pants, smell the hot southern air, and taste the prejudice. I was ten when I first read it and read it at least once a year. Harper Lee is one of the best writers ever!
What advice would you give aspiring writers today?
Persevere and if anyone tells you you're wasting you're time, ditch them. This would include family. Don't listen to the naysayers, the negative people who tell you one in a million make it. What if the millionth one decided not to write that book?
Thank you so much for having me as your guest today, Sheri, and thanks to everyone for stopping by and reading my interview.
I'm holding a little contest until the end of February. Go to my web site and e-mail me the name of the kingdom Prince Balion rules. Put "contest" in the subject of your e-mail and I'll draw a winner for a free copy of Dust and Moonlight on February 1st.
Fondly, Keta Diablo
Web site: http://www.ketadiablo.com
Author blog: http://ketaskeep.blogspot.com/