On June 29th, Kim Richards will be guest blogging here. So, I thought I would post a small bit about her in advance along with a small excerpt from her latest release: Death Masks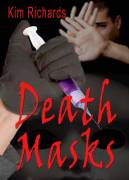 Kim's website: www.kim-richards.com
Publisher: Eternal Press
Publisher's website: http://www.eternalpress.ca/deathmasks.html
Book Trailer: http://www.youtube.com/watch?v=Lp2zpDNMfmMRelease
Date: April 2008
Genre: Thriller
ISBN#: 978-0-9804739-4-0
Page Count: 111
Price: $5.95 U.S.
Blurb:
Bill Cristo takes up walking a per his doctor's orders to lose weight and improve his health. While at the metro park, he witnesses an assault. The assailant turns on him and he wakes in the hospital with a nasty bump on his head, wondering why he isn't dead. The news reports nothing on any attack in the metro park but Bill can't let it go…not when he realizes there are other young men missing from the same area. He digs up what he can on his own, drawing further attention from the murderer. Will he be able to figure out who the killer is before it reaches his live-in girlfriend?
Excerpt:
"Shhh. Please listen." Her words dropped to a trembling whisper.
"What's wrong?"
"I'm scared."
Bill hesitated a moment, thinking she might go on.
"Bill?" She sounded so small and vulnerable. He immediately wanted to reach out through the phone and pull her close. He longed to make whatever it was better.
"I'm here, Hon. What's going on?" He shut down his computer as he talked.
"Someone keeps calling me." Once she started speaking, her words came fast and clipped. "At first he kept hanging up. No heavy breathing or anything so I decided it must be those kids next door."
"He? How do you know it's a guy?" Bill used one hand to hold the phone and the other to begin stuffing his things into his carry bag.
"Because…" Dampened, low sounds came over the phone.
Oh God, she's crying.
"Because I know what a man's voice sounds like. This last time, just a minute ago, he said I'm next."
"Next for what?" As Bill said the words, he'd already guessed the answer. All the clues were in place, the footprints on the porch, the maniac figuring out Bill knew about him, and now the calls to Dix. He didn't hear her answer.
Author Bio:
Kim Richards lives in Northern California; with wedding plans for May 2009. She writes horror, fantasy, erotica and science fiction, as well as non-fiction chapters and articles. She has seen one children's story published and Death Masks is her first thriller. For more information on all of her published works, check out her website at www.kim-richards.com
Kim is an avid costumer and amateur bellydancer. She loves her coffee. She works as an editor for MyShelf Reviews and for Eternal Press as an author, editor and marketing manager. You can find her at Facebook, MySpace, Livejournal and Goodreads under the user name Kim_Richards